EHAA test in a few easy steps: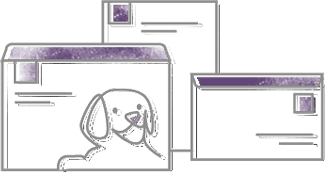 EHAA set comprises of: a short form to complete with a sampling instruction / zipper bag for a sample of hair / addressed envelope.
Fill in a form and draw a sample as instructed.
Register on-line on the PetsDiag Panel and complete "The Background Survey" there (it's very easy – information how to do it you will also find in the EHAA set).
Filled form and sample of the hair send to us, using an addressed envelope. We will inform you by e-mail when the sample reaches the laboratory.
The waiting time for the result is 3 to 4 weeks. We will inform you by e-mail about the availability of the result immediately when the test will be done. To get your EHAA result, sign in to your account on PetsDiag Panel.
On the PetsDiag Panel you can also order  free writting interpretation of the EHAA result, prepared by our expert – animal dietician. You can add scans of results other than EHAA there, add coments or additional information to the expert before consultation. Our consultant will interpretate all those information and provide the necessary nutrition advice.
As an owner of our patient, you have permanent access to the PetsDiag Panel where you can gather documents and information about your dog's health history.