YOUR OPINIONS ABOUT EHAA 
ALFI AND HIS PROBLEM WITH EXCESS IRON In October 2019, I decided to do an EHAA test, because I'd been unsuccessful at explaining my dog's health problem at several vet clinics. Alfi – a border collie, three years old – has been struggling with high levels of iron in the blood for over a year. Almost no vet clinic was able to give me an answer regarding treatment options (only a change of diet or phlebotomy were suggested). Several dietary changes in the form of vegan or fish pet food didn't decrease the dog's iron levels. After doing an EHAA test, I arranged a phone consultation with Dr. Olga Lasek. She devoted almost 50 minutes of her time to a detailed discussion of individual parameters present in the results. She pointed out that the iron problem could be related to, for example, the thyroid (as indicated by the results of the EHAA test). She also suggested changing the diet to chicken (less iron compared with other pet food), eliminating vitamin C supplements and probiotics (which may increase this element). I followed all of these suggestions. After two weeks, a blood test performed at the veterinary clinic showed hypothyroidism – the dog received Euthyrox 200 mg twice daily. Dr. Olga Lasek's suspicions were confirmed. Although the level of iron remains unchanged (unfortunately, this is probably related to a metabolism typical of my dog), a thyroid problem was diagnosed and factors that could further increase iron levels were eliminated. I'm satisfied with the results of the test. I recommend it to every pet owner, as the results may show other undetected diseases.
Ania and Alfi
HIROKI – TESTING NUTRITION ON A RAW DIET I'm the happy owner of a male Shiba Inu dog – Hiroki. From a young age, he has been on a raw diet, which is why it's very important to control biochemistry and maintain mineral balance. I also think it's good to know what the norm for an animal is when it's healthy, not just when something starts going wrong, as then you have no point of reference. Blood tests are standard. Because Hiroki is very nervous during such tests (which can often distort the results), I decided to use a completely non-invasive method. And so, at the beginning of the year, I decided to order an EHAA test kit and a results consultation with an animal dietitian – laboratory expert.
After I received the results from the examination of my dog's hair, I was positively surprised, because in addition to the concentration of individual nutrients, broken down into macro- and microelements, as well as the concentration of toxic elements, the results also contained the proportions of specific nutrients. I'm not an expert in the field of dietetics, which is why consulting the results with a laboratory expert proved to be very helpful. The dietitian clearly explained the relationships between the individual elements. She listened to me telling her how my dog is fed, and pointed out what in her opinion should be modified to improve the results. It was very important to me that she wasn't critical, but presented substantive pros and cons. It was a very constructive conversation. I recommend it to every pet owner, especially if your pet reacts badly to blood tests.
Ania and Hiroki 🙂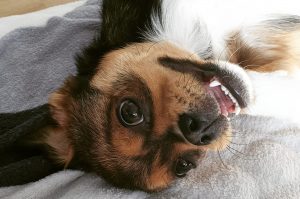 RESOLVING ALFRED'S NUTRITION PROBLEMS Thanks to PetsDiag, we had the opportunity to better understand the needs of our dog, Alfred. The information that was given to us greatly influenced his diet. We highly recommend it. If you think something's wrong with your pet, but you don't really know what to do, PetsDiag is the answer.
Wiktoria and Alfred
ZU AND DIET AFTER NEUTERING Zu is a long-haired Shiba Inu, and she's unique in every way. The basis of her diet is raw meat and supplements that are appropriate for this diet. Last year, Zu underwent a neutering treatment, which is why I pay even more attention to her diet. This year, I decided to broaden her follow-up tests to include EHAA. I wasn't aware of how detailed the results would be. Fortunately, I received the help of a dietitian, whose consultation is included in the price of the test. During the one-hour conversation, I received a huge dose of knowledge, as well as suggestions for possibly modifying Zu's diet. I recommend it to anyone who would like to check if they're feeding their dog properly.
Marcin and Zu
ABI – OVERWEIGHT ISSUES Abi from puppy farm Mazurska Zagroda is a five-year-old Bernese Mountain Dog. We performed the EHAA test twice – in 2018 and 2019. Abi was overweight and had a matte coat with a shade of red. The first test found that the nutrient ratios were disturbed. We changed her diet. We managed to choose the right type of pet food and dose. The second test showed a significant improvement in the composition of micro and macroelements, but it showed an increased concentration of toxic elements. After the consultation, we replaced Abi's steel food and water bowls. We're currently using only ceramic bowls. We're planning another EHAA test in the near future and are curious about what the results will show. Our dog is currently enjoying good health, weight and condition. Abi's coat has improved a lot. It's thick, shiny and deep black. I highly recommend the EHAA test! It gives a reliable picture of the nutrients that we're providing to our dog. An exhaustive consultation with an experienced dietitian, based on specific data from the test, helps to avoid mistakes in the diet and care of the dog.
Maria Dębowska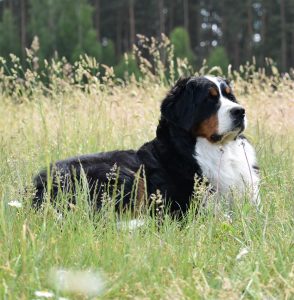 BONITA – RESOLVING REPRODUCTIVE PROBLEMS Bonita from puppy farm Mazurska Zagroda is a beautiful four-year-old Bernese Mountain Dog. When we did Bonita's first EHAA test in March 2018, we had been unsuccessful at our reproductive attempts with this beautiful, titled bitch. The test showed element deficiencies that could be contributing to this. After the consultation, we changed her diet and in December this year, Bonita gave birth to six healthy puppies! This year, for the first time, we'll get an EHAA test for her beautiful daughter, Carina. After the EHAA test carried out in 2019, it turned out that the composition and proportions of the elements are much better, but there's an excess of toxic elements. On the advice of a dietitian consulting the test, we replaced the bowls used by the dogs with ceramic ones. We're currently preparing for the next test. It's really worth it! Testing the stable level of micro- and macroelements in the dog's coat answers many questions. In view of the enormous conflicting advice that we find online and among dog owners, an assessment made by a competent specialist who gives substantive advice based on reliable research is priceless. I highly recommend it!
Ewa Kowalczyk and Bonita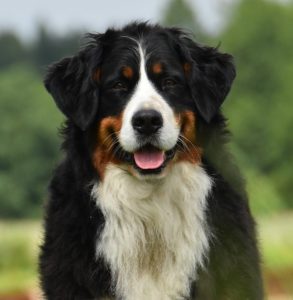 XARA. PROBLEM OF EXCESSIVE TOXIC ELEMENTS Unfortunately, Xara is no longer with us. She passed away at the age of almost eight years. We regret that we didn't do a hair analysis earlier. Perhaps if we had detected excess toxic elements in her body earlier, it would have protected her from lymphoma and prolonged her life. The disturbing results of the hair test prompted us to carry out more-accurate diagnostics. It could be that we eliminated potential sources of heavy metals or started treating hypothyroidism too late. Test your dog's hair regularly! A specialist consultation can help you discover health problems before they become visible.
Aneta Aponik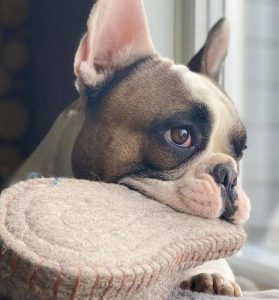 LEO – We would like to thank the doctor for the consultation. Lots of knowledge, tips and a very nice atmosphere. Thank you and best regards 🙂
Leo with his family